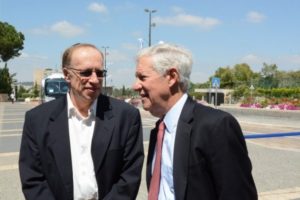 Elie Hirschfeld and Robert Sugarman, former Chairman, Conference of Presidents of Major American Jewish Organizations
Elie Hirschfeld is a life-long New York resident, real estate developer and business leader.  His support for Israel has been significant and a key focus throughout his life. He recently traveled to the historic Jewish homeland to conduct high-level meetings with top government officials to discuss important matters of state and international business development.
The iconic philanthropist was born in Israel and has a long history of activism in support of the Jewish state's well-being and vitality in all arenas – from economic to health and education. Elie Hirschfeld was recently named to a critical position on the National Campaign Advisory Board of Israel Bonds Corporation.